6 Hightlights of MOGICS Light
Multifunction
– e.x. Bicycle taillight, candlelight dinner, tough environmental light, emergency torch …etc
Rechargeable
– A 300mA Li-Ion polymer battery that supports more than 10 hrs of lighting. Takes 1hr 15min to fully charge with ultra low cell discharge to idle and remain power for at least 4 – 5 months ready to use.
Control Interface
– One button for all features control. Switching between 3 Modes + Power On/Off + Float/Sink options.
Waterproof
– For even more versatile applications. E.x. Underwater lighting, candlelit bath, Swimming pool decorative lighting … etc..
Integrated Magnet
– Mogics light can mount on surfaces easily while remaining flexible and mobile enough to be moved for recharging.
Compact
– Imagine all the above designed in a 1.4 inch diameter, 0.7 inch height tiny cylinder that likens the smallest IKEA tea candle.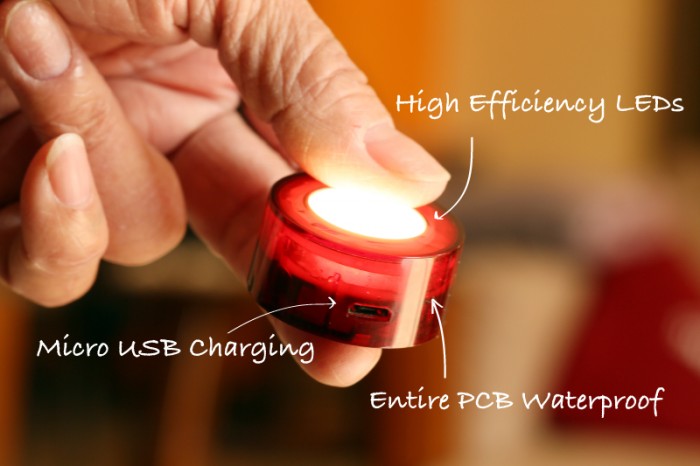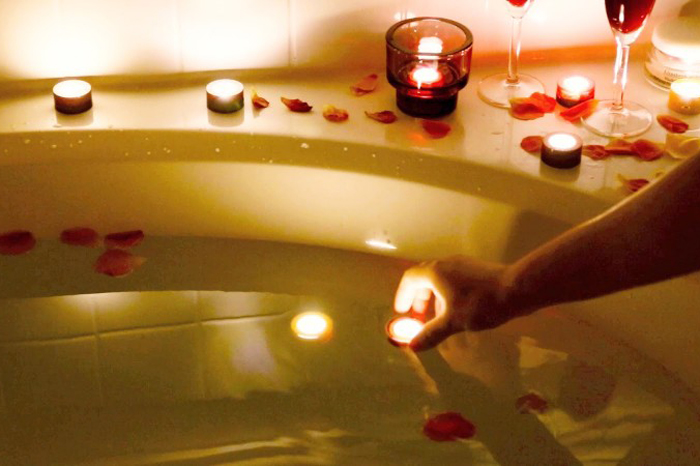 Specifications
Mogics Light is easily recharged by any USB source (e.x. latptop). The waterproofed micro USB charging port is located at the side of the light.
We use super bright warm white LED to optimise the brightness in Mode 1 (Normal Light), yet warm enough in Mode 3 (Breathing Light) with the reddish diffusion effect.
No plug or O-ring was needed for waterproofing Mogics Light – we used Nano technology to process every components in Mogics Light all the way from the PCB to the micro USB port. This allows the Mogics Light to work perfectly underwater.
The battery we use is an integrated 300mA rechargeable Li-poly Battery which lasts as long as 3 months (idle time) after fully charged. 1 hour and 15 minutes to fully charge your Mogics Light; and you can get 30 hours of continued illumination in Mode 2, 20 hours in Mode 3 and 10 hours in Mode 1.
High Quality Magnet at the bottom of your Mogics Light to allow for easy mounting on any magnetic material. For non-metallic materials such as cloths and wood, this feature becomes especially handy when complemented with the small metal disc stickers or the Neodymium magnet pair.
One of the most unique features of Mogics Light is the Micro-control Docking System. The docking pins located at the bottom of your Mogics Light are designed to go with other accessories and for long distance applications – such as sensor control and battery extension.
The appearance of Mogics Light resembles a small tea candle.
The dimensions are as follow:
Height: 18.0mm (0.704 in)
Diameter: 36.6mm (1.43 in)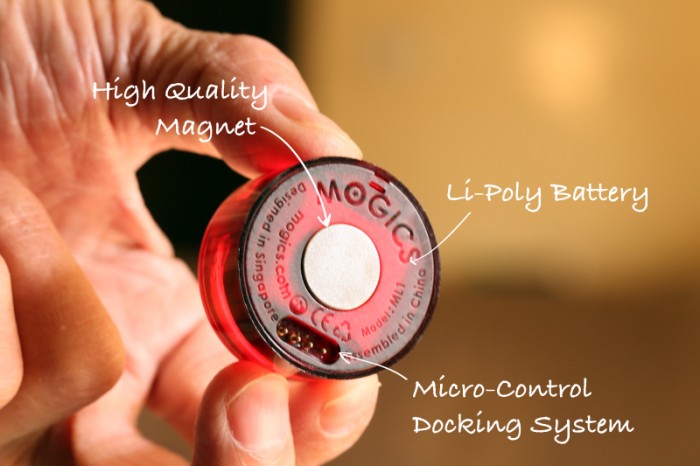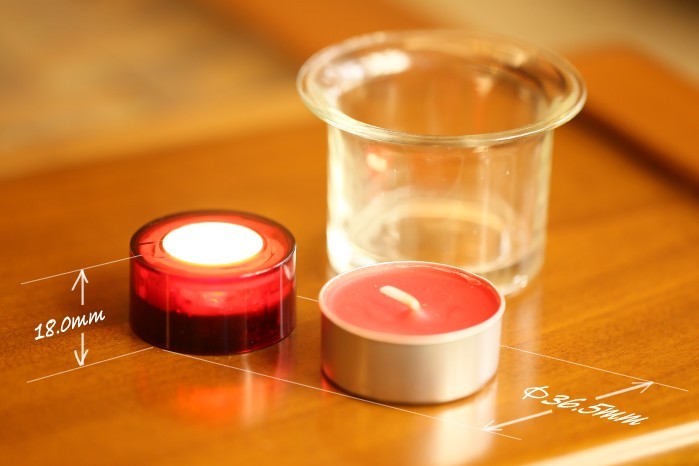 Submergence & Bouyance
Gently place your Mogics Light on the water surface; yes, it floats. Bubble bath, floating candlelight, ambient lighting … the application is endless when it comes to water.
To submerge your Mogics Light, just softly press the button once and let the water in.
Mogics Light works perfectly in as deep as 2 metres (6' 7") of fresh water. Note that Mogics Light is for fresh water only. To prolong your Mogics' lifespan, we recommend taking your Mogics light out within 24 hours of submergence to dry up.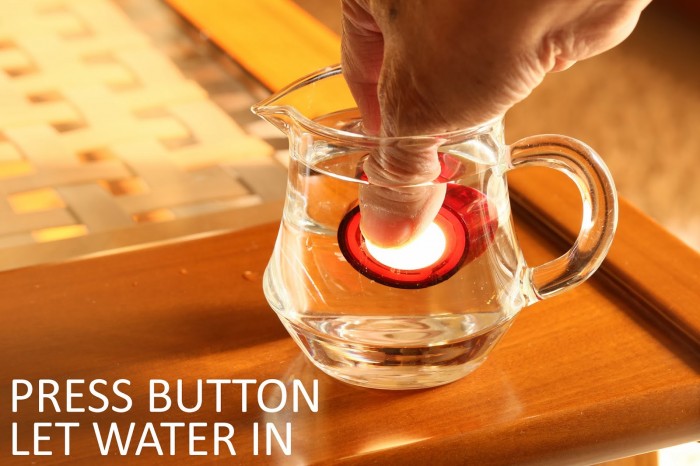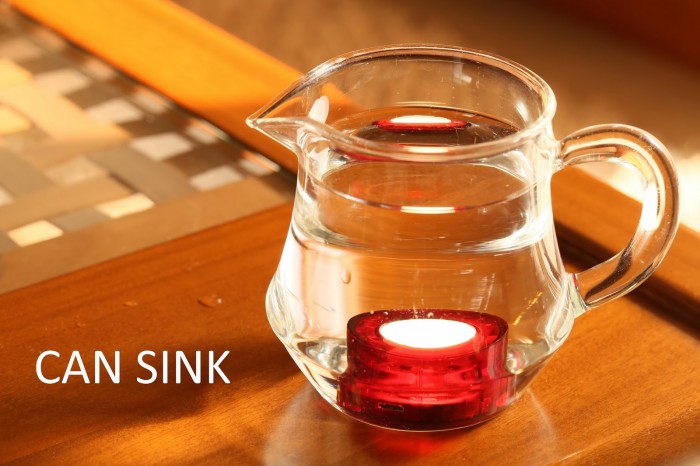 1.Normal Light
Press once to switch on your Mogics to bright Normal Light (Mode 1). This mode is most frequently used as a car ceiling dome light, emergency torch, bicycle headlight … et cetra.
2.Signal Light
Press again to get a flashing red Signal Light (Mode 2). This is designed for bicycle taillight, pedestrian/joggers safety light, warning/SOS beacon … and more.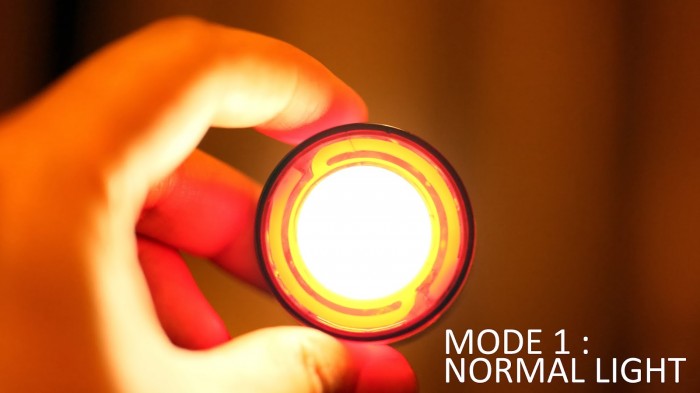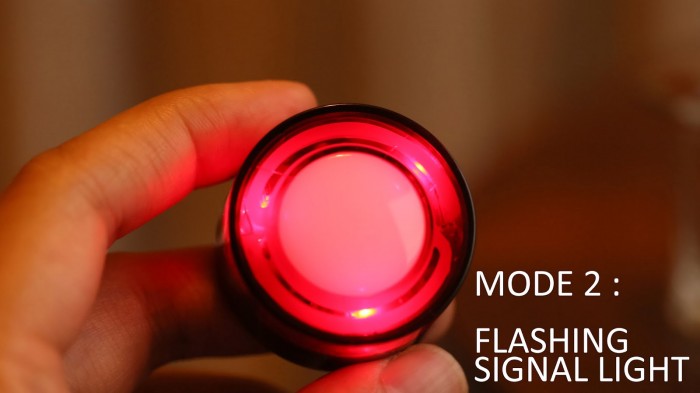 3.Breathing Candlelight
Press again for a shimmering, Breathing Candlelight (Mode 3). As the name suggests, your Mogics Light can be used as a candlelight sans potential fire hazards. Other applications include pool illumination, ambient lighting, romantic candlelit dinner … the list goes on.